Yes, it's a fact that comments play an important part in creating and maintaining the groups of interested viewers or customers of your website. But, with the web becoming more and more pervasive, the whole idea of posting comments has become a victim to misuse and spamming. Comments can boost your website only then when they are value added or relevant. Therefore, many websites now prefer to disabling the whole 'comments' feature  or searches suitable way to remove WordPress comments. Here is the best way to remove comments from your WordPress site.
Reasons for Removing WordPress Comments
There can be various reasons for not at all wanting the comments feature on your WordPress site. Many small businesses don't add any blog options to their site, but only provides some static pages. And therefore the comments on those pages literally become useless. In other cases, some bloggers do not want this feature in the first place or choose to remove WordPress comments. They consider comments to be diversions from their original blog contents. Therefore, the want their blog sites to continue without comments.
Disabling Comments in WordPress
For the benefit of users, WordPress has a Disable Comments plugin with which one can easily remove WordPress comments completely. After activating this plugin, go to the 'Settings' and select the 'Disable Comments' option. The 'Disable Comments' page comes with two separate options. To totally disable comments on your entire WordPress site, you can choose 'Everywhere' option. Otherwise, you can go with 'On certain post types' option to selectively choose those pages/posts/media on which you want to remove comments. Once done selecting the right option, until you click on the save changes button, your changes won't be saved. To see whether the changes has been properly made or not, you can check on those particular pages on your WordPress site.
However, this Disable Comments plugin does not erase the comments completely; it just doesn't show them anymore. This plugin also removes WordPress comments menu and the existence of comments from your site.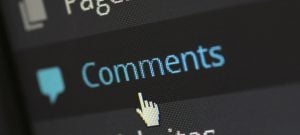 Removing Existing Comments in WordPress
If your WordPress theme is not staying up-to-date with your comments status, then it may show 'comments are closed' message on your site in WordPress. To stop such comments from appearing or remove WordPress comments that already exist, without going for the disable setting option, there is another plugin named Delete All Comments. Or else, you can simply ask your theme developer about the 'comments are closed' messages. You can also try fixing this up by yourself by following these instructions:
Connect to the WordPress site by using File Manager or FTP Client in Control Panel.
Navigate to the folder of your current theme.
Search for the file 'comments.php'; and when found, rename it as 'comments_old.php'
Right-click and choose the 'Create new file' in your FTP client.
Name the file you created as comments.php and click on OK button.
As this process helps to serve a template of empty comments to the WordPress theme, no comments or related messages will be shown on your WordPress site again.
If you follow these instructions carefully, there is no way you'll ever face any problem or doubts about how to remove WordPress comments.