WordPress 4.9 "Tipton" released named after an Oklahoma-born jazz musician Billy Tipton, a pianist, and saxophonist. This release brought some major improvements in the customizer, code editors and also a New Widget was introduced. Let's give a look at all the changes and improvements one by one:
Schedule your customizations:
Earlier users had to save any changes they made in the customizer or it was discarded. WordPress 4.9 allows them to draft and schedule changes in the customizer. They can easily schedule their designs for any date to be published.
Another benefit is that it lets users share a preview of the changes with their colleagues so that they can consult upon it. This update also allows users to preview themes directly in the customizer itself. The search interface includes the "Add themes" option in the customizer.
Secures your design:
This update makes it easy for two users to customize one site without overriding the changes made by others. This update's lock feature secures your customizations so that it does not gets deleted is someone else is making any customizations.
Syntax Highlighting and Error Checking:
This update warns you if you make an error in your CSS. It also brings syntax highlighting to the built-in code editors. This will let users find out any errors in coding very easily.
WordPress 4.9 will also warn you about saving an error so that you can be assured of all the possible errors being fixed.  Now not more of those blank screens!
Warning:
While editing the themes and plugins directly, this update will warn you that this is a dangerous practice and you should first draft and test these changes before going any further. Isn't it awesome?
Widgets!!!!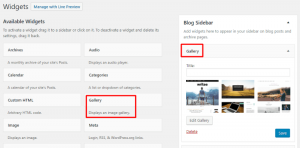 New gallery Widget: This new widget lets you add a complete gallery in the widget area.
A user can now easily embed images, videos, and audio directly into the text widget along with the text with an "Add Media" button. This update also adds shortcode support to widgets.
Some more site Improvements:
Easily place menu and widgets when you decide to switch your theme.
Search, browse and preview more than thousands of themes from within the Customizer itself.
The menu update copy is updated to guide you create a menu in a much easier way.
Help Gutenberg Improve:
This update also includes a notice that invites users to test the Gutenberg plugin. You can easily be an early tester and contribute to the project.
For all the Developers
Customizer JS API Improvements: Many changes have been made in Customizer JS API in WordPress 4.9. Give a look at all.
New code editing library Code Mirror: New code editing library, Code Mirror has been introduced in WordPress 4.9 for Syntax highlighting, error checking, warnings while editing themes and plugins.
MediaElement.js upgraded: WordPress 4.9 has upgraded the MediaElement.js to 4.2.6 with many fixes.
Improvements in Roles and capabilities: New capabilities have been introduced that allow granular management of plugins and translation files.
This update has brought some major and amazing changes to WordPress core. Not only customization but also site improvements have been taken into considerations this time.Have you updated your WordPress to 4.9 yet? Update it soon and let us know your views in the comments section below.