Wireframing has now come to be an integral component of the design process. It does not just ensure removal of design and usability issues in the initial phase, but it also aids assure that the entire stakeholders are on one page.
If you are still wondering about what is a wireframe tool, it is a mockup tool that enables you to rapidly build a brief outline or blueprint of your design with basic shapes and minimal styling to aid obtain an idea regarding the final product. It is a visual representation of the layout of your site and fills the gap that stays after the text, lexical communication, and drafts.
Features Of Web Development Wireframe Tool
Among the extensive tools present, understanding the following crucial factors that specify a high-grade tool would aid you to select between them:
Simple Navigation
This is an important prerequisite on each website. Assessing the functions of each feature would be time-taking, so the tool picked should be as simple as you would desire your website to be. Users favor utilizing software having a compact interface and a logical hierarchy, which allows them to find the necessary link in a few seconds.
Updated Software
This is a key requirement in designing websites. A wireframe tool that has not been upgraded for a considerable time will hamper your website and maintain it outdated. The lack of inventions like integration plugins, communication facilities, and pre-installed UI kits, etc, will prevent the website from remaining user-friendly.
UI Kits
The user interface performs an insignificant role in developing a wireframe, but not while building a website. The designing components affect the visitor's preference of whether to stay or abandon the web page. So, a tool that is endowed with prominent UI libraries packed with pre-loaded templates should be selected, since it would aid you design a striking interface.
The Ability To Test
This is the basic feature, the omission of which would render a website inoperative. A splendid wireframe tool presents the capacity to examine the web page of each web browser and platform. This would aid your website to conform to the requirements of the majority of the popularly used gadgets, whether it is an Android device, an iOS device, a Windows PC, or any different device.
Here we take a look at the top-notch wireframe tools to design mockups, wireframes, and prototypes to aid you narrow down your selection.
Best Web Development Wireframe Tool
You can find a list of wireframing tools for web development. It should be sufficient to get you started on your own project. I tried to include the most popular and useful ones that are free or cheap. If there is anything missing from this list, please let me know in the comments.
1. InVision Studio
InVision Studio is a prototyping and animation tool that enables you to design progressive, vector-oriented screen designs quickly due to flexible layers and a limitless canvas. It's regarded among the finest high-fidelity prototyping tools available. InVision Studio enables you to accelerate your workflow; design exciting, interactive prototypes; test your designs; communicate your designs to the crew and clients; and clean up questions, concerns and design alterations prior to the development stage.
InVision Studio is a component of the InVision suite of tools. InVision Studio can be employed on Windows and Mac. You can import Sketch files, also.
Features:
Crop and resize images without masks
Fix elements as you scroll
Link different artboards into single animation
Design swipe triggers for parallax effects and other kinds of animations that happen on scroll
Build responsive prototypes without writing
2. Adobe XD
Adobe XD is among the finest wireframe tools. It is superb for prototyping and developing mockups for mobile apps, websites, and different digital assets.
Adobe XD contains an extensive range of features of tools for templates and UI, contextual layer panels, cardboards, and other potent UI wireframe tools to aid you create outstanding mockups.
It has a deep integration with Adobe's innovative suite of products, which permits these applications to make a fast import of objects.
Adobe XD is amongst the finest UX tools for business, which assists in content design by auto animation, prototyping, responsive resizing, collaboration, besides much more.
Features:
It operates speedily and smoothly when employing assets from Illustrator or shifting assets to AfterEffects.
This program offers a light and progressive feel, and still has many functionalities and conveniently joins XD with illustrator and photoshop.
The program contains all the wonderful options of installing and designing a homepage.
It is free to use, and payment just has to be done for its different published prototypes at one time. It is among the finest free mockup tools.
Its general performance is rated good, and combines with different applications of the Creative Suite works of Adobe quite well.
3. WriteMaps
Sitemaps are a crucial feature for any website these days, as they help web crawlers like Google bots to navigate through them also find new pages to list on the SERPs. A sitemap is a way for the website to tell Google or other search engines that a particular page is relevant and must be considered for indexing. Sitemap builders like WriteMaps aid webmasters to bypass the manual process of mapping a website and reduce their workload significantly. 
WriteMaps can help you gather website content and build organized sitemaps quickly using a simple drag and drop interface. You can also use the interface to share information with your teammates. It is an online application with free and paid features that you can use depending on your necessity. You can view your progress using the sitemap view or the content view.
Features:
Dedicated sitemap builder to create sitemaps quickly by adding new pages, renaming them, changing page colors, and reordering pages
Gathering content using the stakeholder input to plan the direction for each web page by formatting the content, adding images, adding title tags or meta descriptions, and updating the page status
Creating groups of pages separately from the sitemap as well as reordering, deleting or renaming sections
Allowing others to access/edit the sitemap online or offline using a unique URL
Get WriteMaps
4. Sketch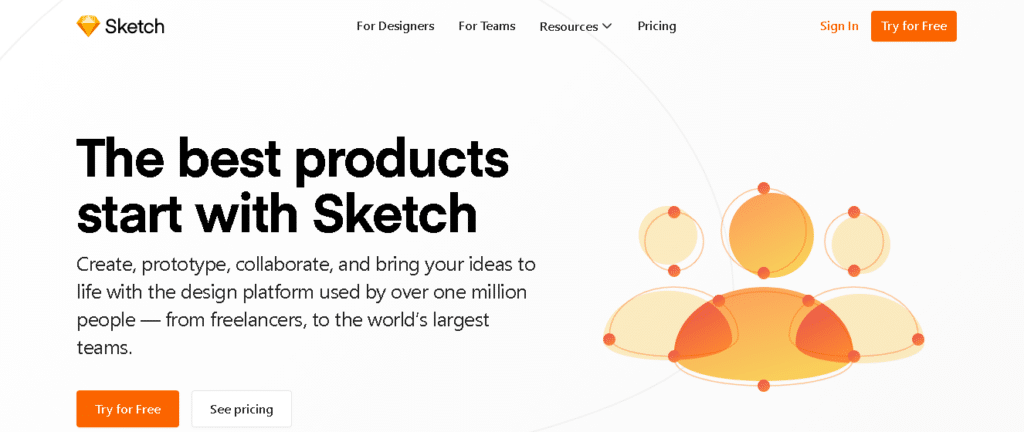 In the matter of creating mockups, Sketch is well-recognized. It is among the best products to collaborate, prototype, and visualize user journeys. Nearly 1 million people employ this design platform. This program is utilized by freelancers to big teams all across the world.
It possesses an intuitive interface, nicely outlined features, and the entire star power of a macOS app. Sketch is amongst the finest wireframe tools for web designers as it is product design-based.
Collaborations and sharing have made it convenient to get testing ideas, feedback, and handing designs to developers.
Features:
The product's design system base is laid by Sketch, which contains responsive, reusable components that automatically adjust to fit the content.
It is the ideal program to test, create, design, and iterate. This is achieved through scalable vector graphics and pixel-perfect icons, to complete user flows and interactive prototypes.
Users can pick from many plugins and integrations, which enable them to animate interactions to designing with real data.
Ideas can be checked and exchanged via prototype links, enabling the design process to continue flowing.
Immediate access is afforded through the shared Cloud workspace. This permits customers and external collaborators to specific documents to provide feedback quickly.
5. InVision Freehand
InVision Freehand is amongst the finest mockup tools. Recognized to be a prototyping and collaborative design platform, possessing the features of interactive mockups and freehand drafting mode, idea management, collaboration, and user testing.
It also includes integration with Slack and different collaboration tools.
As more than 1 million designers are employing the free version, it has obtained the title of best free mockup tools. InVision is also a cloud-oriented digital product design platform that can and is being employed by businesses of all dimensions.
Its creative digital dashboard is designed particularly for collaborative exercises.
Features:
It contains the brainstorming feature, where users can schedule their experiences and provide feedback all in one place.
Freehand enables users to rapidly discuss, create, and save notes from the feedback sessions.
It includes a Craft plugin, which permits users to join and exchange their current designs to a new or prevailing freehand.
The tool is easy and simple to use, anyone wherever they might be, can drop in and offer their ideas.
Effective to use, collaborations consume less time and use up more time in designing useful experiences, and not exporting presentations.
6. Figma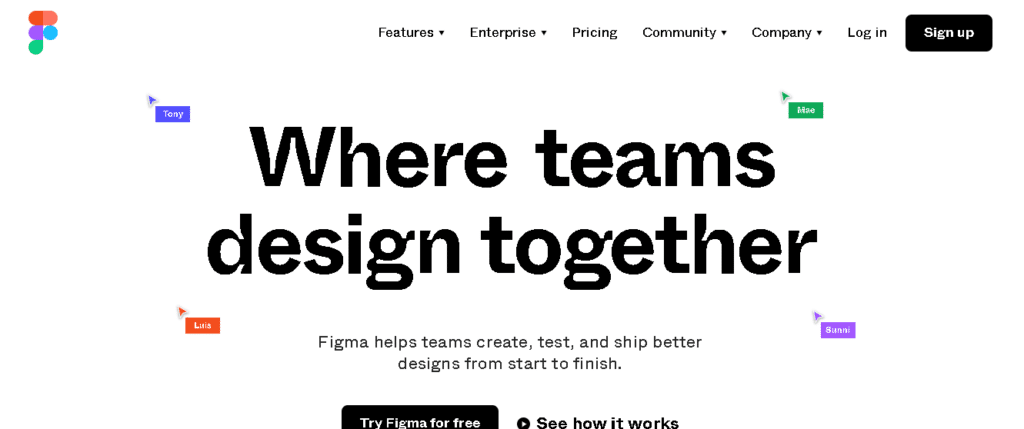 Figma is the finest software for wireframe design. It contains features that are packed with design elements, which aid create various kinds of characteristics.
It offers latest and matchless features, like the Arc tool and Vector Networks. These tools enable the ideas to run smoothly without any impediments.
Figma doesn't allow users to feel the necessity to stop to save, install, or export. It also permits customers, teammates, and different third parties to interact without needing to set up other software. So, clarity is present during the customer and designer communication.
Features:
Even though working remotely, users can exchange a link to their design files or prototypes, and receive feedback in context or also co-edit live.
Ideas are revived much faster, with the application of animated prototypes affording it the true feel.
A synergy is built within the design team by framing a scalable design system that's reachable for the organization and simple to manage.
Figma is quick and files are always updated, therefore, enabling collaborations and file sharing simple.
Figma enables a new development of the design system to be implemented to each designer of the company with only 2 clicks.
Also Read: Car Repair WordPress Theme
7. UXPin
UXPin is among the common wireframe tools that offer designs with interactive elements.
So, there is no requirement for duplicate artboards, and all of it is flowing from one source.
The entire prototypes that contain functional and interactive elements are all created from the production code. These coded apps inserts a layer of logic to the prototypes, by collecting and manipulating users' input.
UXPin aids to provide well-planned wireframes resulting in intriguing interfaces.
Features:
Rather than drawing static imitations of checkboxes, text fields, and radio buttons, users can design them and employ them in a functional model.
Libraries for material design, iOS, and bootstrap are offered easy access.
Point, draw, and curve vector shapes by integrating them to design icons or graceful illustrations.
Numerous icons enable the user to work quicker.
Users can update the whole components created by them at once or edit every instance distinctly.
8. Balsamiq
Balsamiq is amongst the finest web development wireframe tools. Their only purpose is to allow remote and thin teams to make mockups, collaborate, manage versions, and operate user tests.
It does not need a credit card for a free 30-day trial. This permits the customer to examine the Balsamiq wireframe process and how good it has an effect on the workflow.
It conveniently exports to PDF, displays mockups and their notes one above the other, and functions with Google Drive for mockup file creation and management.
Features:
Simple customization of complex elements, e.g. data tables, navigation bars, checkbox groups, and tag clouds.
Wireframes are designed employing a rough "sketch" style that exhibits the incomplete nature of the design.
Its intuitive interface renders it extremely simple for the user to begin utilizing the tool in absence of a tutorial.
The need for maneuvering or drawing boxes is absent as really quick sitemaps can be designed with just text.
There is fast creation of click-through prototypes to copy how a user may flow through the website.
9. Moqups
Moqups offers a flexible designing alternative for the creation of wireframes, mockups, separate prototypes, and diagrams. It is a plain, advanced, quick and user-friendly technique for validating your ideas on the exhaustive structural wireframes. Besides this, Moqups is renowned for its collaborative learning and team momentum together with the use of stencils and inbuilt libraries of icon sets. The outstanding features of this platform are importing images, styling options, object editing, page management etc.
Unrestricted number of team members
Privacy settings and access control
Collaboration in real time
Master pages and templates
Integration with Google Drive
10. Proto.io
Proto.io is considered as among the most striking online wireframe tools which is utilized for creating innovative wireframes and inventive designs. It presents a vast range of awesome features like high fidelity interaction experience, transitions, mobile gestures, animations, editing, resizing, formatting besides many more. This platform is supported by Mac and Windows devices. There are 4 paid plans which provide separate services to its users based upon their need and plan detail.
Features:
Prototypes function and interact as true apps
Totally web-based
Intuitive drag-and-drop User Interface
Screen transitions
Real device prototype examining
Also Read: Self-Hosted vs Hosted eCommerce Stores: What's Better for Your Business?
11. Marvel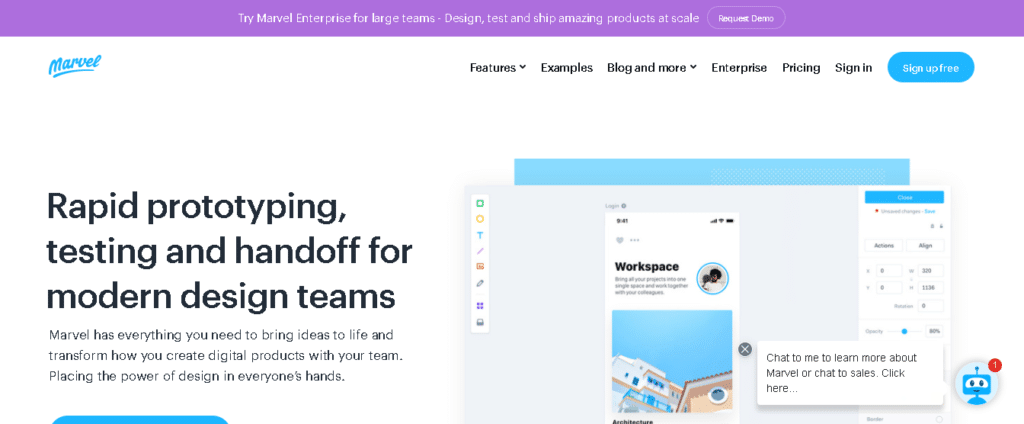 Marvel comprises a comprehensive design platform that enables you to perform wireframing, user testing, prototyping, and general design. Its wireframing tools present templates for Apple TV, iOS, Android, web, and also Apple Watch. It also carries numerous wireframe assets for each device that you can just drag-and drop to use. Further, you can combine the platform with apps like Dropbox, Slack, and Confluence to speeden your workflow. The finest thing concerning Marvel yet is really its elegant, intuitive, and attractive design and user interface.
Features:
Automatic Notifications
API
Custom Development
Third Party Integration
Role-Based Permissions
12. Canva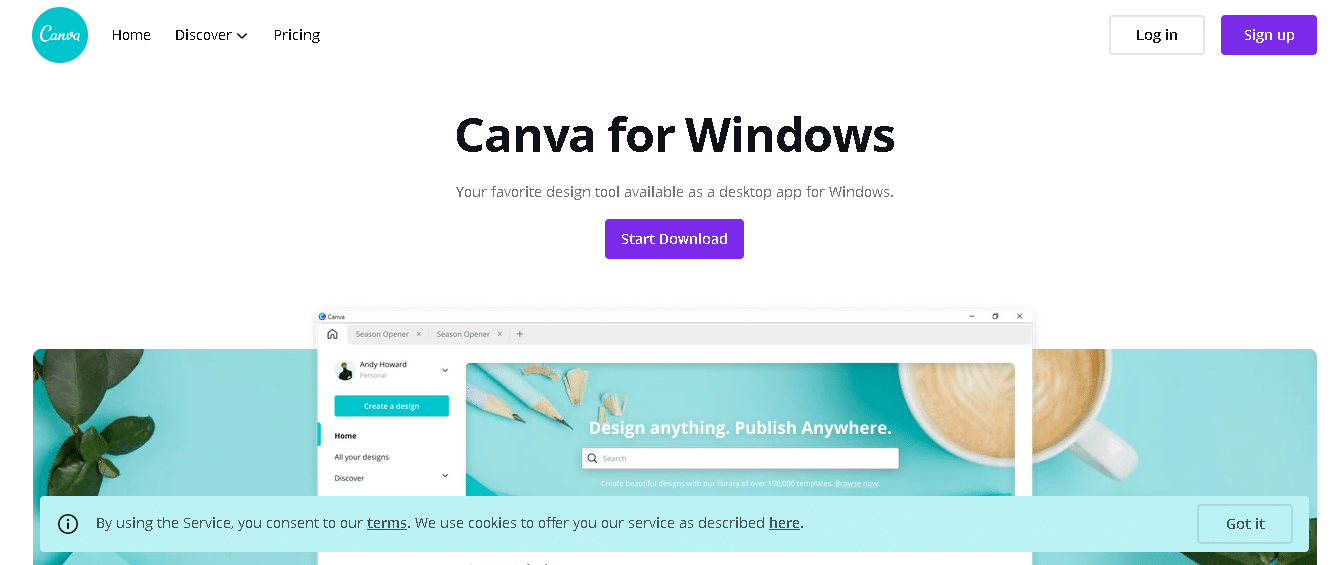 Canva is among the rare wireframe tools to design your idea into wireframes and prototypes. You can quickly exchange your design with your friends via links or emails. Furthermore, you can possess access to over 5000 templates and are backed by Android and IOS users. The main components of Canva are inserting text and images, resizing, pick and drop graphics, editing besides many more. It is mainly employed by startup entrepreneurs and college students.
Features:
Stock images and illustrations.
Layouts for each occasion.
Social media graphics
Customizable branding
Photo editing
13. Adobe Photoshop
Adobe Photoshop is among the best image editors. It has tempting features and various tools to render it a dedicated designing software. Take your imagination to a new level and make it real with Photoshop on your desktop. Also combine with several Photoshop plugins to insert greater functionality and boost your experience. Huge Photoshop tools like 3D image creation. 3D editing exist to carry your creativity to the next level.
Features:
Photoshop includes a layer related editing system which can be employed for texts, patterns, background colors, images etc.
Photoshop 3D allows users to insert and draw 3D structures to your designs
Create your personal custom color in the color picker tool box.
Design high definition Panoramic photos with Adobe Photoshop.
Access to Creative Cloud libraries.
14. Adobe Illustrator
The allure of the Adobe Illustrator is vector designing. It is the primary graphic design software for designing professional vector artwork. Its responsive interface draws developers, designers or anyone who has no knowledge of where to begin to design the poster of their friend's birthday party. Though the software has a sharp learning curve, still there are some pre-designed templates present in the tool itself to kick-start you.
Features:
Everything in one place i.e sketch an illustration, design a logo, poster, flyers or a picture from scratch in Adobe Illustrator.
Multiple tools for rotating, selecting, reshaping, and rescaling the objects.
Illustrator easily combines with different plugins to make your design more effective.
Design pixel-perfect shapes, apt for any device.
Rapidly save your designs and get them exported while working on separate artwork.
15. Affinity Designer
Affinity Designer comprises a vector graphics designing tool that permite you to craft attractive professional designs on Mac. It has lots of features and functionalities which makes it speedy.
The software can aid you use bold colors, craft curves for vector illustrations or customize live shapes. You can design frames of marketing copy or innovative texts for headlines employing Affinity Designer. It is equipped with asset management functionality that permits you to arrange all your outputs.
Features:
File compatibility with file types like PNG, BMP, JPEG, GIF, PSD, RAW, and PNG.
Image and photo tools
Contains Illustration Tools
History Access
Back up your entire projects to iCloud
Final Thoughts on Web Development Wireframe Tools
When picking the best wireframing tools, begin by considering your aim for the wireframe itself. Do you intend to convert the wireframe into an interactive prototype in the future phases? Do you desire collaboration features? Will you be transferring your wireframes straight to your crew of developers for adoption?
And keep in mind, it all rests on what you wish to achieve with the wireframe.
Interesting Reads:
WooCommerce Apps For Your Online Store
What Kind Of Products You Can Sell With WooCommerce