The BuddyPress Check-ins plugin justifies its name well. It works to enhance the functionality of a social network by providing the extra feature of allowing users to make check-ins. Just like famous social networking sites worldwide, BuddyPress users will now be able to check-in at different places they visit while posting some sort of update.
Installation of BuddyPress Checkins Plugin
Upload the entire bp-check-ins folder to the /wp-content/plugins/ directory.
Activate the plugin through the 'Plugins' menu in WordPress.
After the installation is completed, the user will be required to obtain their API code. To get an API code, the user will have to visit here and register. When the code is in hands, the user will have to enter the code into Dashboard>>Checkins, along with selecting the types of places that will be available for check-in. Once the BuddyPress Check-ins plugin has been successfully configured, a "Checkin Icon" will appear alongside the input form for activity updates. Whenever the user will click on this icon, the BuddyPress Check-ins plugin will be able to show all the places for your IP Address that are available for check-in.
The BuddyPress Checkins plugin is a simple yet powerful extension for BuddyPress power users. Making a check-in at a place people visit, is quite a trend these days. Obtaining a Google Place API key was also an effortless pursuit here. Now, users will be able to check-in at their favorite places throughout their location, providing an extra edge to their website activity stream.
You can see the demo here: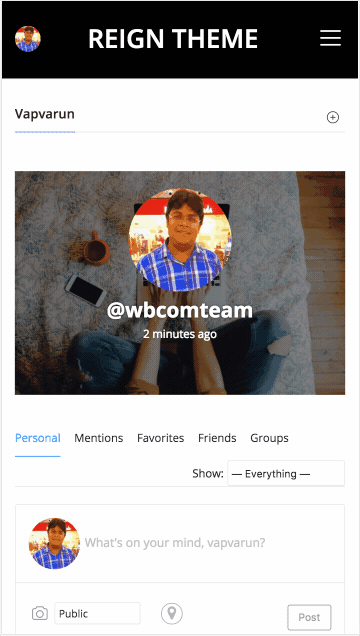 Mode of Operations
You can operate the BuddyPress Checkins plugin in 2 different modes:
AutoComplete Feature: In this mode, you can add the location of your choice, first start typing location name, and then it will suggest some outputs based on your input. You can select out from the suggestions.
Place Type Feature: By using this mode, you can restrict your members to add locations based on the nature of your website, like religious websites can allow adding Church, Templates, etc. Foodies websites can restrict check-ins for bars, pubs, and restaurants.
There is also an important feature added in this plugin, now it changed the tab slug as per tab name. Thus, help users to easily identify a particular page content in a website by just viewing the URL.
Wrapping Words!
As we have discussed above for the BuddyPress Check-ins Plugin, You can share your location when you are posting activities. You can add places where you visited, nearby locations based on google places. I hope, you have understood its features well. And if you want to do all these activities, this check-in plugin is for you.