WordPress 5.9 is on the horizon. Every year, everyone is eager to see the next version. WordPress is the most popular CMS available and grows at an incredible rate.
It's not unusual for everyone to be focused on the plans of WordPress' core team. Millions, if not billions, will use this new release. You don't need to be worried. Today's post will discuss some unique options that could change how you design WordPress websites with the new updates.
There are a few ways to test WordPress 5.9 beta:
Install and activate the WordPress Beta-Tester plugin. Select the bleeding edge channel from settings and the Beta/RC only stream.
Download the beta version directly and install it in your testing environment.
Notification: Twenty Twenty-two themes will be the default theme in WordPress 5.9 releases.
Introducing The New Default Theme 'Twenty Twenty-Two'
Twenty Twenty-Two will be the default theme for WordPress 5.9, the first major release in 2022. WordPress 5.9's new default theme takes full advantage of the new site editor.
It is the most flexible WordPress default theme. Twenty Twenty-Two has a bold yet minimal design that uses Source Serif Pro fonts for headings.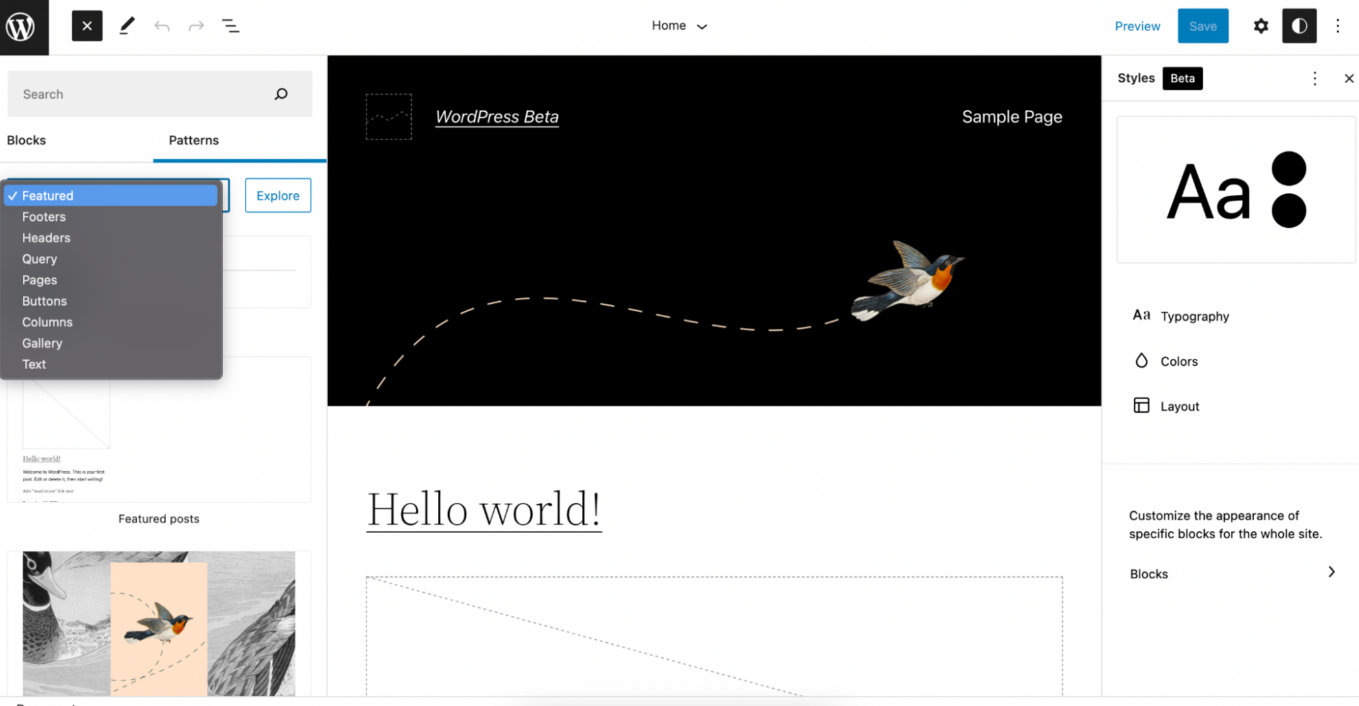 You also get a variety of pre-made patterns to use in the site editor and block editor for content writing.
Full Site Editing – Huge Expectations
WordPress 5.9 will build on the WordPress 5.8 site editing features. The upcoming release will add many more features to the site editor experience.
These new features allow you to easily edit your WordPress theme with no code so that you can create a unique website and custom. You will be taken to the full site editor mode if you navigate to the Appearance area of the dashboard.
The full site editor mode will give you the following editor mode. This will let you customize the look and feel of your site, much like a drag-and-drop page builder.
Here's a list with all the theme blocks that were introduced in 5.9:
Navigation
Template Part
Header
Footer
Post-Author
Next Post
Previous Post
Comment
Term Description
Archive Title
The site editor also allows you to create new themes that can be used across all pages. When editing any page or post, click the Style icon in the upper right corner.
Please note that: The theme creators need to update their themes to enable full-site editing. This will allow you to create new styles for your theme.
You can modify the colors and typography of your website from this page. After you're done, you have the option to save your changes as individual templates, parts of templates, or as a general style for your entire website.
You can now change the block styles
Click on the Style button, then select Blocks. A list of blocks will appear that you can modify and personalize. You can modify the style of each block on your website using the new full-site editor.
This allows you set different styles for each block on your website. You can, for example, change the color of your buttons to match your brand colors or change the size of your heading fonts.
Notable Block Editor Improvements
WordPress users spend most of their time creating content. Each WordPress release brings improvements and new features to the block editor.
You can now easily move sections: The ListView on your toolbar will allow you to move sections. Click on an item to move it up or down.
Navigation Block: You can use the navigation block from the site editor in your WordPress pages and posts.
Better Social Icons & Buttons: Previous versions of WordPress made it difficult to access the child and parent blocks when using social icons and buttons.
Improved Heading Controls: You can now select a heading level using a vertical dropdown menu in the headings block. There are more options for heading design, typography, margin, spacing, and design.
Rich URL Previews in the Block Editor
In the past, the URL was all that you could see when you hovered over a link within the post editor. WordPress 5.9 will now display rich URL previews inside the post editor.
Language Switcher during Login
Users will choose the language they prefer on their login screen if you have multiple languages on your WordPress site.
Changes under the Hood
WordPress 5.9 will bring many new features for developers that they can explore and implement in their themes, plugins and projects.
What it means for Wbcom users
We work hard to ensure that our customers can seamlessly transition to WordPress 5.9 with our products. As soon as possible, you will experience WordPress 5.9 compatibility with our plugins.

WordPress 5.9 is here!
WordPress 5.9 will change the way people use WordPress to build websites, as you can see by the descriptions. Wbcom Designs are hopeful that this will be a positive change. We are just as excited for WordPress 5.9 as you are.
---