If you want to create a multi-vendor marketplace and looking for a suitable plugin and suitable theme for this. For this, we will introduce you to the WC Vendor plugin which is one of the most popular multi-vendor plugins and our Reign theme which is fully compatible with this plugin.
WC Vendors Marketplace
WC Vendor Marketplace Plugin creates a marketplace with WordPress which is powered by WooCommerce. You can easily build your marketplaces like Amazon, Etsy, eBay, or Shopify, Envato rapidly.
WC Vendors Marketplace is the most ideal approach to make your multivendor marketplace and earn commission from each deal.
Important Features of WC Vendors Marketplace:
1. Vendor Stores:
Sellers get their store with a unique URL.
Storefronts can be customized through templates. (Pro feature)
Multiple storefront styles.
10 great pro widgets for storefronts.
Vendor store notices to advertise coupons or sales.
Vendor vacation mode.
Vendor social media profiles.
Vendor Store SEO.
Store Opening hours.
2. Vendor Dashboard:
Basic frontend dashboard for complete sales reports.
Vendors can mark orders shipped.
WordPress Admin for publishing products.
Export orders (Pro feature)
Complete frontend dashboard without WordPress admin access for vendors.
Complete product, order, and coupon management.
Add tracking numbers to orders.
Print shipping labels.
3. Earn in multiple ways:
Percentage-based commission split between the admin and seller.
Set commission rates of product, vendor, or global level.
Fixed, fees and commissions based on sales products, product category, and vendor or price. (Pro Feature)
4.Product Management:
Vendors can manage their products from the WordPress Admin panel. (Pro feature)
Manage all product types and their options from the user dashboard.
Manage and create attributes, variations.
Manage shipping at the product level.
Customers can review products. Vendors cannot modify these reviews.
4. Vendor Discount Management (Pro Feature)
Vendors can create and manage, set the limits, expiry of their coupons.
5. Shipping management (Pro Feature)
Shipping can be placed at the product, vendor, or global level.
Vendors can set their shipping policies.
Table and Flat rate shipping options.
Introduction to Reign BuddyPress Theme
Reign BuddyPress is the perfect theme for building an attractive community or social networking website for any niche. It supports the popular social networking plugin BuddyPress and also various plugins like LearnDash, EDD, GamiPress, Sensei, Tutor LMS, Dokan, WC Vendors, and many more. You can choose to install and activate plugins according to your needs. Reign Theme Supports Elementor Page builder that lets you control every aspect of your web design in real-time-view.
BuddyPress
BuddyPress is a social networking plugin for WordPress which gives the functionality to create sites like Facebook with features like activity stream, messaging, notifications, groups, and members. BuddyPress is totally free and greatly customizable and helps you build a community website.
Features of BuddyPress:
Users can create and update profiles, including their profile photos.
Users can be friends with one another.
Users can send Private messages, join groups, follow activity streams, create blogs, participate in forum discussions, and many more.
Advantages of Community Feature in a MultiVendor Website:
Increase sales, Website Traffic, Customer Loyalty.
Better Understanding with Customers.
Increase feedback and ideas from customers retention.
Save Customer Time.
Allow people to interact with each other.
Reign WC vendors Addon:
Reign WC vendors Addon is specially built for Reign theme, it increases the functionality of WooCommerce based multi-vendor websites. It has easy-to-use customization settings that help to customize every element of your marketplace very easily.
Features of Reign WC Vendors Addon:
Grid Layout for store listing
Amazing layouts for WC Vendors Pages
Amazing Designs WooCommerce Pages
Customization options for Single Product Page
Mega Menu support
Additional WC Vendors Widgets
Ready to use attractive demos
Addon Backend settings and how it works: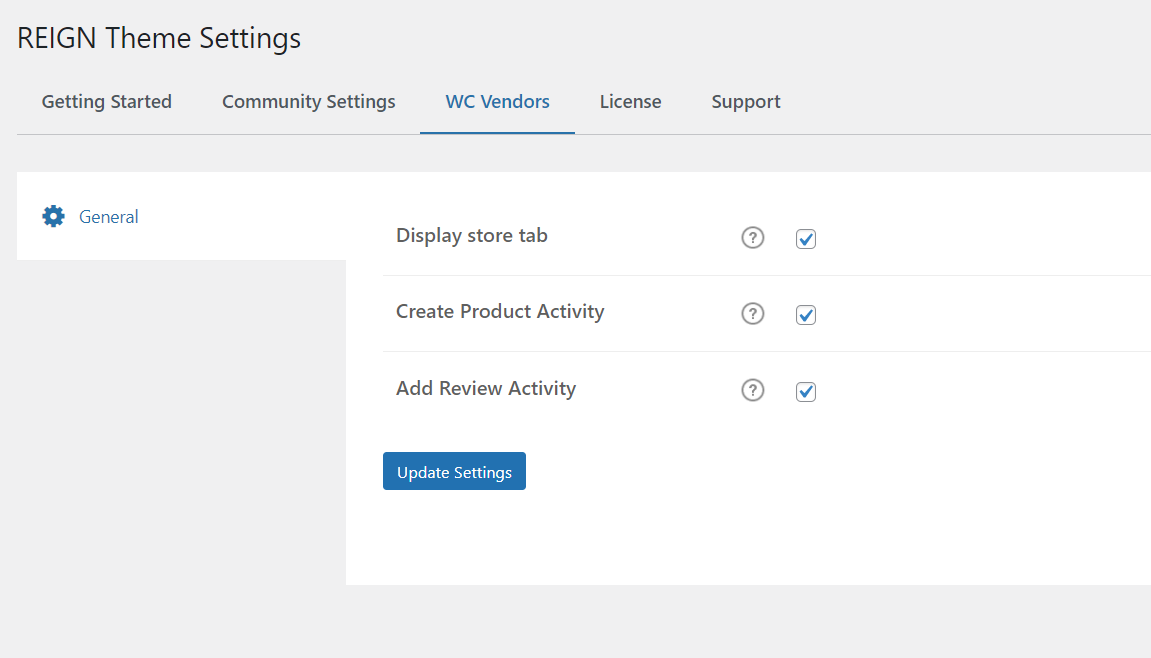 1.Display Store tab: Display store tab in BuddyPress profile.
2.Create Product Activity: Admin can enable or disable the post inactivity any vendor creates the product.
3.Add Review Activity: Admin can be enabled or disables the review activities if any user reviews our product in the activity post.
Reign WC Vendors Widget
The widget shows shop vendor info. You can attach this on a single vendor profile page.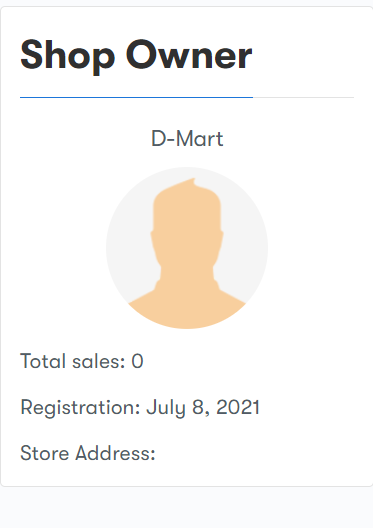 Store Listing Layout
Reign WC Vendor Addon Provides a beautiful store layout with WC Vendors Marketplace. This Layout doesn't need WC Vendors Pro Version, Works perfectly with the WC vendor marketplace's core version.
Simply use[wcv_vendorlist] shortcode, to display an attractive Grid Layout.
BuddyPress Integration With Reign WC Vendors Addon:
In WC Vendors we can get the various BuddyPress integration which is as follows.
1. Activity
2. Profile
3. Notifications
4. Store
5. Settings
Demo Importer:
Through the demo importer plugin, users are easily able to download the themes available as demos which is recommended for the plugins. So by using the Reign theme we can import various themes available which will support the specific plugin.
Steps For Importing Demo in Reign theme:
1.Go to the Dashboard page
2. Click on the Theme installer option seen in the sidebar
3.From the Header menu choose the plugin for which you want to download the theme
4.Click on the import button to any theme you want to download
5.Then download the recommend plugins
6.Click on the demo installation after installing and activating all the recommended plugins after that your set is ready to use.
SandBox Availability
We offer Sandbox demos with WC vendors Pro and Reign theme in conjunction with BuddyPress to test all marketplace and social features as a website admin. It will give you a better understanding of how our solution is working.
Try WC Vendor Marketplace Sandbox Demo
How Sandbox is Useful:
The sandbox is very useful for the user as before installing the theme in the website the user can be able to take the trial of theme and plugins compatibility before actually using it in the website and be able to go through the features which are available in the plugin and theme for which they are looking for.
Conclusion
So you must choose the right theme and plugins for your website. We will suggest you the Reign BuddyPress theme as it is the perfect theme for creating multi-vendor websites because it provides you with so many features.
Interesting Reads:
How to Create a Dating Website Using WordPress Plugins
BuddyX Theme Review: An Ideal Free Social Membership Theme