One-page WordPress themes are worthy of presenting a visually attractive and plain user experience. Numerous businesses – especially in inventive industries – favor one-page sites due to their capacity to offer content in a fluid-flowing, logical and intriguing way.
A single-page site casts an effect on your visitors straight away without needing them to tumble around different pages. The majority of one-page themes present great animation options, which render it nice to move around various sections of the site. These themes are ideal for business sites, corporate sites, freelancers, or portfolios to design a resume-style portal to offer their services. Many of the themes referred to here are responsive, retina prepared, and contain visually striking parallax scrolling impact.
This catalog will assist you to discover the finest theme to carry your business portal to the next level. So, get cracking!
Most Popular One Page WordPress Themes
1. BuddyX Theme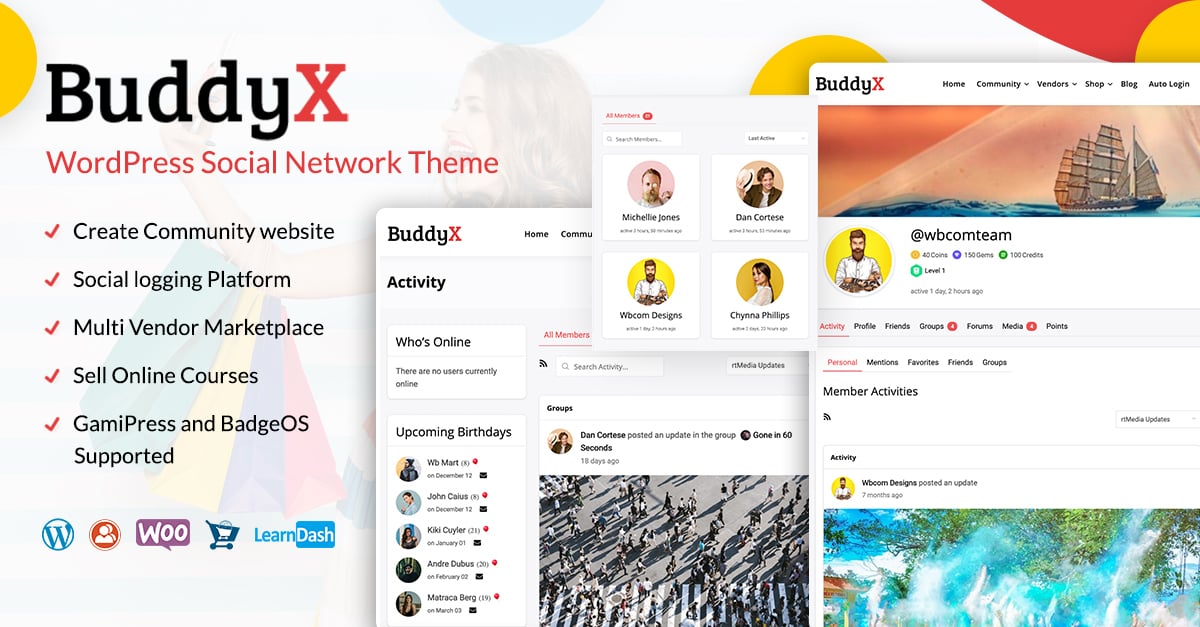 BuddyX theme fits everywhere perfectly by offering you everything required to start a site. It is a multipurpose and powerful WordPress theme. The theme is quick and simple to get started with the one-minute setup option and running within no time.
This theme comes with great designs which help you to make your site stand out. It's fully WooCommerce compatible and responsive which will make your site look great on all kinds of modern devices including mobile phones, laptops, tablets, etc.
2. Reign Theme
Being a multi-purpose and popular WordPress theme, Reign is perfect for companies. You will be able to share all your details on your site with your audience. With advanced features and customizable templates, the Reign theme lets you build a beautiful website with the features and page builder of your choice.
It comes with a drag-and-drop page builder that will help you to create unique pages within minutes. Reign works perfectly with all the important WordPress plugins like WooCommerce, bbPress, BuddyPress, etc.
3. Sole
A one-page portal is naturally simple about the different layouts you can employ. However, the structure of that layout does not necessarily have to be generic. A theme like Sole provides you the versatility to make your site as smooth or complex as you wish.
Visually-oriented businesses, like creative agencies, will cherish the inbuilt grid builder that renders it simple to design a portfolio. Further, the custom post manager will assist you to build custom post types easily. Nevertheless, you'll discover that this theme will fit tech businesses and startups mainly, a highlight that's obvious in each of its six whole-featured demos. These layouts are excellent for beginning your design fast.
After selecting a demo to employ for a base, you can next tweak every element to precision utilizing the packaged Hybrid Composer page builder plugin. This tool offers more than 70 clear modules to aid compose your pages, with an extensive selection of customization options for all. Moreover, there are 12 separate header styles to pick from. The whole of this implies that a specific layout and design are directly at your fingertips.
4. Uncode
Designing the layout of your site is certainly an essential task. However, simply because you agree to a specific design now (like a one-page website), doesn't imply you won't wish to alter things in the future. Uncode is an almost immaculate theme for site managers who wish to retain the freshness of their designs.
As you may have imagined, Uncode constitutes a multipurpose theme that offers a lot of niche-specific templates, which are all rich in functionality. One-page designs constitute no exception. There are 7 one page layouts present (termed 'concepts' here). Everyone can be personalized utilizing the packaged WPBakery Page Builder plugin, else the countless options located within the allocated admin panel.
Besides the classic scroll option found on like websites, Uncode now presents a 'Slides Scroll' alternative that allows users to' flick' across content sections through the swipe of a trackpad or scroll wheel. For sites offering plenty of information, this can strengthen your usability substantially.
5. Brooklyn

Brooklyn comprises a graceful responsive one-page WordPress theme with ample white space, sleek typography, and plenty of features.
Brooklyn contains 8 separate skins (all seen is the demo), parallax scrolling impact, and 7 separate header styles to present your website with a rare appearance.
Further, Brooklyn includes an inbuilt shortcode manager for simpler shortcode addition into pages and posts. The theme contains an enhanced theme options panel and is ready for translation. The standard $19 Revolution Slider is contained chargeless, together with 3 different custom plugins plus 365 Font Incredible icons in 8 separate categories.
While Brooklyn is a real one-pager, it also backs multiple-page websites.
6. Divi
Divi (review) constitutes an extremely common release from Elegant Themes. In the beginning, the theme did not include one-page capability, but it has been inserted in the 2.1 updates presented to all ET members.
The single-page Divi version contains an exciting version of sticky side navigation (situated on the demo's left), somewhat like a slideshow. The above navigation arrives in various styling options. The Divi page builder is remarkably simple to utilize and straightforward. Its simple interface allows you to save, create and load page layouts, as well as sell them to different Divi users in bundles. Or, you can utilize any of the different preset layouts the developers of Elegant Themes have already incorporated within the theme.
Divi, similar to all different Elegant themes, contains the ePanel theme options panel, which lets you customize each portion of your theme's design and even its standard SEO. Apart from all that, you even obtain regular Elegant Themes features containing many shortcodes, solid documentation, safe coding, and an extremely economical price tag.
7. TheGem
There are a lot of themes that can assert to offer a single page layout, though none can present the abundance of options and stellar functionality of TheGem.
The entire design elements you link to a nice one-page website are offered in this theme, a total screen hero slider (which can be designed courtesy of the packaged Slider Revolution plugin), an option of 6 header styles, besides the capacity to build whole-width sections using the packaged Visual Composer plugin.
Moreover, there are different customizable options, like colors, fonts, and more than 2,500 icons – every of which is also customizable. TheGem presents smooth Scrolling, animations are beautifully incorporated, and there is on-point functionality. It's a strong challenger, and can easily be the leading solution for designing your website.
8. Innovio

When your website includes just one page, you'll have to strive hard to ensure it's enchanting, instructional, successful at converting visitors, besides more. You'll require a powerhouse theme to aid you to achieve that, and Innovio could accomplish that.
This theme presents some one-page demo alignments to pick from, which mainly highlight tech niches. Nevertheless, the packaged WPBakery Page Builder plugin can aid you to adopt virtually any demands you possess, irrespective of the focus of your business.
You'll discover the majority of this theme's core versatility not within the packaged plugins, nevertheless, but in the assortment of shortcodes included to impart new functionality. For instance, you can add team profiles, pie charts, pricing tables, portfolio galleries, besides more on your pages. Innovio is worthless if not adaptable in response to your requirements.
In general, Innovio is a multipurpose theme to try out. It outshines concerning one-page designs, although that's not its sole use. The demo indicates well what to hope for, so view and see for yourself!
9. Cardea
Single page design is perfect for portfolios, as you wish to motivate people to try out your work without shocking them. If that's your aim, you may desire to try out the Cardea theme.
The theme arrives in 2 styles (complete color and dark), so you can select the general feel you wish your portfolio to display. To create your one scrolling page, you can pick from a catalog of pre-built segments. This allows you to present information regarding your pricing and services, flaunt your portfolio itself, besides more.
Cardea presents various other key features also. It is equipped with a focussed portfolio post type, rendering it simpler to show new work and projects fast. There's also a team post type if you're not tasking alone. Besides, you'll receive access to different handy scrolling and slider options, and also a shortcode creator.
Cardea is quite simple concerning one-page themes. Nevertheless, if you desire a pleasant and active portfolio and you don't want to use up plenty of time developing it, this theme can spike you.
Conclusion on One-page WordPress Themes
Various WordPress themes exist that offer expert-looking and greatly innovative single-page designs to serve all kinds of businesses. The aforesaid are some of the finest one-page WordPress themes that can aid you to design the site of your dreams.
If you have services or business, one-page themes can help you to offer content with an extremely professional appearing design and provide you the option to put all the essential information regarding your business on one page together with a contact form and other necessary details.
---
Interesting Reads:
10 best WordPress translation plugins
Top 11 Speakers WordPress Themes