BuddyBoss Platform plugin helps to make engaging social networking or online community websites have earned massive credibility and attention from brands worldwide. With many businesses seeking the support of BuddyBoss Platform to build a community to fulfill their goals and objectives has become advantageous and functional for any brand to sustain and prosper for long. 
In this wake of events, it becomes crucial for the brands to select appropriate themes that complement the BuddyBoss Platform plugin and substantially impact viewers' and buyers' subconscious to make them come back for more. While there are plenty of themes available in the WordPress repository, selecting an absolute theme from all the sectors is an arduous task for any business to begin with. Choosing a fully compatible WordPress theme that downright fits your company's needs becomes a top priority. 
Hence in this article, we have highlighted a core functional theme BuddyX, a free theme, also listed in the WordPress repository and fully compatible with the BuddyBoss Platform plugin. This theme is complete in all aspects to make your online community journey a little simpler and a lot better. 
What is BuddyBoss Platform?
BuddyBoss Platform is a powerful plugin that can make social networking sites like Facebook and let the brands explore the vast majority of features and functions. BuddyBoss Platform allows the brands to create engaging social media platforms where users can come and make their member profiles and social groups to share their likes and passions about similar products or commodities. Apart from that, the user panel is open for customization, where profile types and fields are all open for tweaks and changes according to the user's conditions and preferences. 
With additional features such as the option of private texting and Zoom integration, BuddyBoss Platform creates an impeccable lasting impression on brands who want to have a comprehensive approach to developing quality content through their social networking website. Apart from the usual, the activity stream and column consist of engaging elements where users can check their friends' content and posts, share likes and dislikes, and create new friendships. 
BuddyBoss Platform is also RTL-ready and multilingual supported, which increases the efficiency and effectiveness of the website and stretches its domain to various countries where people, irrespective of their demography, can use BuddyBoss Platform with utmost ease. 
The plugin packed with such powerful tools can be beneficial to create websites that respond well to the needs of people and the community. BuddyBoss Platform plugin comes with powerful customization tools to implore brands and businesses to get the services and options tweaked well according to the needs and requirements of the brands and enterprises. 
Build Your Online Community With BuddyX Theme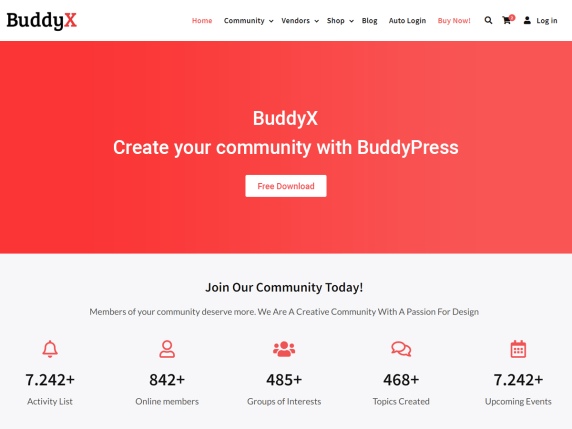 With an exceptional plugin like BuddyBoss Platform, one needs to have a controlled theme option where the plugin features can find support and receive an amplified response from the additional features. To make BuddyBoss Platform perform its best, BuddyX is a theme that centers around the logistics of building a safe online community. With BuddyX, brands can create engaging communities where users can have interactive conversations about anything in general. 
BuddyX is also equipped with WooCommerce support, making the theme much more efficient in transforming any given website into a full-fledged marketplace, making it easier for the business to pool their resources and conduct sales directly through their website potential customers. 
BuddyX makes sure that their customers are retained through digital rewards and badges with a social gamification feature, making the online experience more fun and easy. The theme also supports form plugins such as Gravity, Contact form 7 to make the brands experience overall smooth marketing support to collect leads. 
A Safe Community for Non-Profit Organizations
BuddyX expertise lies in building a clean social media website like Facebook to harbor community ethics and values. Thus, with the assistance of a space like this, NonProfit and voluntary Organizations can generate funds, meet like-minded stakeholders and investors that can help generate wealth with the help of the professional community built through BuddyX. 
Create WordPress Social Learning Platform through BuddyX
The BuddyX comes with an integrated LMS functions and attributes that let the brands create exciting and attractive online courses and skill programs. BuddyX themes can be customized accordingly to create a social learning community where users can explore various courses and skill programs listed and buy a unique course package to improve their expertise and knowledge. By integrating a social networking feature in an online course website, users can access courses from their social profiles, share their progress in the activity stream, and many more.
Designed To Impress 
BuddyX is developed keeping in mind the coding standards regulated and used by WordPress. Hence, the BuddyX theme has an advanced theme customizer that is highly advanced to make tweaks and changes with precision and care. Such simple templates with a Professional outlook can attract users and customers and impact the varied consumers to make it look more appealing and visually stunning. 
Lightweight And Compact
BuddyX is highly lightweight, considering the number of power-packed features that come pre-embedded with the theme. The compact size, faster loading time, and advanced features make the BuddyX top the charts for a fully compatible BuddyBoss Platform theme. 
Add More Layers to Your Online Community With BuddyX Pro
With the need to expand and explore the possibilities of online community building and maintaining social equilibrium, BuddyX Pro has been introduced with advanced features to make the brands seek more social security and a crisp social presence. 
Equipped with all the features of BuddyX but expanded and amplified, the new functions that make BuddyX Pro unique are the most popular and needed extensions of almost any business and brand to secure social command. 
bbPress Support
BuddyX Pro comes with an inherent bbPress support that lets brands and businesses create stunning forums where individuals can set up a place for discussion, subscriptions, and more.
LearnDash Integration 
Selling online courses and lessons has never been easier with BuddyX Pro; with LearnDash support, brands and businesses can set up detailed online courses and curriculums and step into the world of e-learning and education to promote the digital learning experience. Brands can cultivate social learning environments through their websites and encourage users to buy courses to enable their skillset training and experience. 
Lifter LMS Support
BuddyX Pro also supports a powerful LMS plugin called Lifter LMS that will let the brands establish and nurture an online learning experience and keep a successful communication circuit between the teachers and the students to have no communication block exist within. 
WooCommerce Support with a Stunning Product List Display
BuddyX and BuddyX Pro, both the themes accommodate WooCommerce for a complete overall marketplace experience; however, with BuddyX Pro, the theme offers exquisite list display where brands can showcase their products in an organized and sophisticated manner compel customers to purchase their products and generate heavy sales. 
WC Vendors Support 
With an extended WC vendor support, BuddyX Pro can help a business expand its horizons by equipping a website with vendor's support where direct contacts can be established between buyers and sellers to make it feel like genuine virtual multi-vendor marketplace interactions are honest, and sales are compelling and fulfilling. 
GamiPress Support To Make Things Fun and Engaging
BuddyX, which is well furnished with gamification features to keep the customers engaged, GamiPress is a fantastic plugin that easily gamifies your WordPress site. With this, users can get badges, points, or digital rewards that help to engage users on your website. Proven as an effective market strategy, this function can help retain users to stick to your website and stay loyal to the brand's overall vision. 
BuddyX Pro lets you play and customize many features available to the brand's content and needs. They range from versatile header variations to an attractive discussion board equipped with bbPress and some advanced LMS plugin integration like LearnDash, LifterLMS, etc. Brands can sell and buy courses online with social media features to broadcast and secure more visibility. Also, it is well equipped with Woocommerce, WC Vendors integration that lets the brands use the community built in a marketplace where users and members can make purchases and brands can seek a valuable and loyal customer pool.
Final Thoughts
Such meticulous features and attention to detail make BuddyX and BuddyX Pro unique and distinguished themes for BuddyBoss Platform and WordPress. Both the free and Pro version of the theme is highly advanced and come with many minutely planned features that are holistic and complete to cater to any professional need and requirement at any given point in time.
Interesting Reads:
How to Create Training Module with WordPress Education Theme
Market Networks: The Future of Service Marketplaces?