A WordPress site comes as a combination of some great plugins with the right knack of the theme. And lately, the WordPress plugin market has been flooded with all sorts of plugins from various developers. There is no denying that WordPress membership plugins are pivotal for increasing audience engagement on a particular site.
One must be aware of their requirements before going for a particular plugin. There are several parameters that decide why a specific plugin would be the right choice. When we are talking about membership plugins, we must consider the fact that it should offer unconstrained membership levels. Content shield, restrict the downloadable content, feature content drip and affiliate program along with total payment gateways. Considering integration with eCommerce features also stays a key point because some membership plugins are limited to the sale of digital products only. In this blog, we've covered the Best WordPress Membership Plugins that you can use to get your website rolling.
WordPress Membership Plugins 2021
WordPress Membership Plugins
S2Member
S2Member is a free WordPress membership plugin that offers an initially good start to users and comes with 4 membership levels. It's been around for a while and has a devoted user-base. The plugin supports PayPal and integrates well with MailChimp, bbPress, and BuddyPress. The admin can restrict access to Roles, Capabilities, Posts, Pages, or anything else in WordPress. You can also protect whatsoever downloadable files and be streaming audio/video with S2 plugin and store files locally or even use s2Member's integration with Amazon S3/CloudFront.
Paid Membership Pro Membership Plugin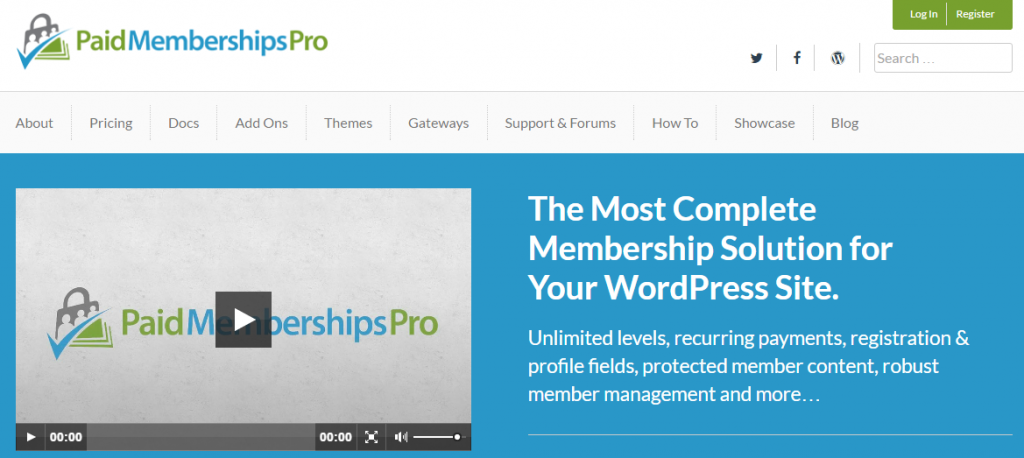 Paid Memberships Pro is a 100% GPL and developer-friendly plugin that works to enhance user experience with an intuitive UI. Users can use this plugin to set up unlimited membership levels with the theme of their choice and provide restricted access to members-only content. Paid Memberships Pro integrates with many popular third-party plugins like MailChimp, BuddyPress, bbPress, Zapier, WooCommerce and many more. PMPro also offers more than 80+ add-ons that make this plugin robust and customizable.
WooCommerce Membership Plugin
WooCommerce Memberships is a powerful one that allows users to create multiple membership tiers, whether they are paid or free. Members can modify their memberships depending upon the control they deserve by either upgrading, downgrading, pausing or cancelling their respective memberships. Members can find all of the information they need about their memberships in the Member Area. The site owner can also offer a trial, complimentary and discounted memberships or include membership as part of a physical product purchase if they have already been using WooCommerce to sell products.
This Memberships plugin lets you export members to a CSV file so that you can get member data out of WooCommerce and into other tools. The membership plugin also offers the sought-after features such as multiple memberships, drip content, restricted content, and products, several payment gateways to choose from.
WP-Members: Membership Framework Plugin

This is the original membership plugin for WordPress which is simple to install and configure. Users can install this membership plugin to control content access to registered users by blocking posts, pages, individual posts/pages and manage user login, registration, and profile integrated into the theme. This plugin works dreamily for newsletters, premium content sites, clubs/associations, etc. Users can also create some special pages with simple shortcodes that are available on this plugin.
Simple Membership Plugin
Simple Membership is a simple but a whole plugin which offers free and paid membership with unlimited membership levels. Site admin can choose to hide all the content or can display a teaser content to attract users to register or login. Simple Membership plugin works with PayPal only and offers translation in 20 languages. The feature to either go for one time or recurring/subscription payments is also supported by the plugin.
Users can accept one time membership payment via Stripe payment gateway. The benefit of this plugin comes with the fact that it works with any WordPress theme and can protect photo galleries, attachment pages and comments on your protected posts. This plugin lets site members delete their membership accounts if they wish to do so.
MemberPress Membership Plugin
MemberPress plugin offers a lot of features and can be your one sure shot choice for membership plugin. The site owner can make an unlimited number of membership packages or digital products.  Users can restrict access to content that can include pages, posts, categories, tags, files and videos (using the MemberPress AWS add-on).
Every time a new membership package is created. MemberPress auto-generates a new pricing box and registration page for the package and also sends out automatic reminders at various events such as payment card expiry, approaching membership renewal dates etc. Members can easily log in, view their content, edit their account & billing information, and manage all their subscription details with ease. The plugin seamlessly integrates with PayPal, AWeber, MailChimp, GetResponse, and MadMimi and Amazon Web Services and BluBrry for podcast hosting.
Restrict Content Pro Membership Plugin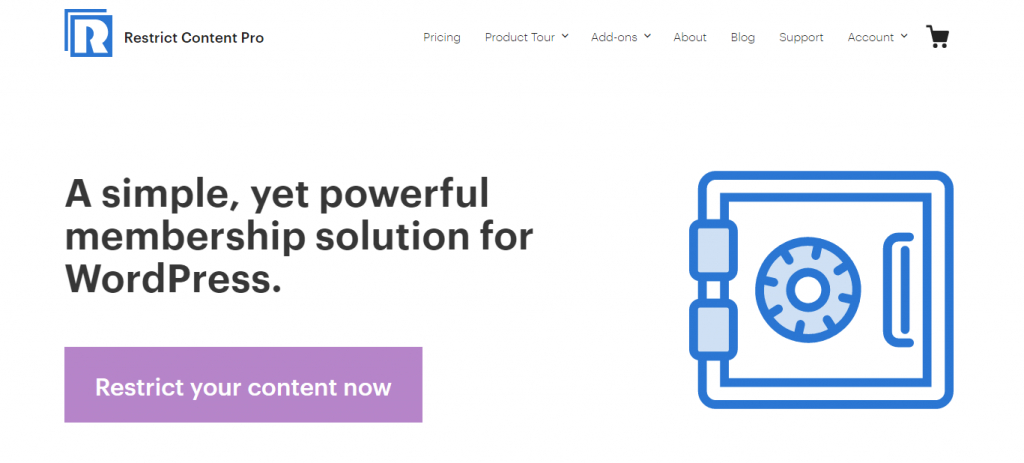 Restrict Content Pro does not only work to restrict content. There's more to it. It's easy to configure and users need not have any pre-coding skills. You can go for Restrict Content Pro if you have quite a stuff on your site and you plan to make the switch to packaging that content as a paid product. Locking down existing pages and posts to be viewable only by registered members comes easy with this membership plugin. One can build an unlimited number of subscription packages, prices, and levels with this plugin. Users get to pay via PayPal and later the site can be integrated with PayPal Pro/Express or Stripe.
MemberMouse – WordPress Membership Plugin
MemberMouse is a specialized WordPress Membership plugin. It is a great choice for maintaining a membership program with drip free content along with selling digital/physical products. It uses passwords to restrict website content. Membership level defines what sort of access rights the members have on the website content. If the site admin wants to set up a special membership package that only the readers of their purchase, this plugin will serve the purpose. There is another feature where registered users can even gift membership. Lastly, this plugin perfectly integrates with PayPal, Stripe, Authorize.net, Clickbank, iDevAffiliate, AWeber, MailChimp and GetResponse.
Conclusion
All the above-mentioned WordPress Membership plugins allow you to create a fully functional membership website. We hope you liked this article. If you have any suggestions for us, let us know in the comments below.
Interesting Read: Fatal SEO Mistakes To Avoid And To Be A Winner Of The SEO Game