WordPress Social Network Theme
Bring your community online on WordPress powered by BuddyPress or BuddyBoss Platform. Offer modern design and features to community teams. Easy to use Members profile, activity streams, groups, forum, private chat and much more.
Support All Major BuddyPress Integrations
BuddyX Pro have dedicated support for popular BuddyPress integrations and not limited to only the community. Feel free to extend your community to sell online courses with WordPress LMS plugins like LearnDash. Similarly support for Elementor page builder, Multi-vendor plugins, and a lot more.
Customize the Community platform to match your
Brand or Bussiness (not the other way around)
Social Community
Sell Courses
Online Store
Memberships
Branding
Gamification
Social Community
Social Experience like Facebook
The theme provides a uniquely clean and fast-loading design for all the social elements. Easy customization and flexible design code make it a #1 theme for BuddyPress and BuddyBoss platform users. You can also extend your community features specialy for engagement, security and privacy with our free BuddyPress plugins & BuddyPress Community Bundle
Social Activity Share and Reaction
BuddyX Pro provides features to share your activities over social media and also site members can react to them. Members can also reshare the activities to increase content engagement. Resharing helps your friends and site members reaching to your post more frequently.
Social Feeds – Three Activity streams are available one is site-wide, a profile feed, and a group feed – a proper segregated space for different activities.
Alerting Notification – There is no disruption in interaction with the one you care about the most. Header notifications will not allow you to miss any update, message, group post, or connection request.
Engagement – Once a visitor is now your member. Keep a grip on your members with engaging features like activity posts, private chat, and gamification.
Member Space – Prioritize the requirements and desires of your members with personal space. Allow them to create and manage their profile.
Connection – Allow them to create friendships and enjoy. A virtual space for the people to enjoy together.
Messages – Stay in touch with mentions and private messages options. Talk is essential for building a relationship, trust, and supporting your community members.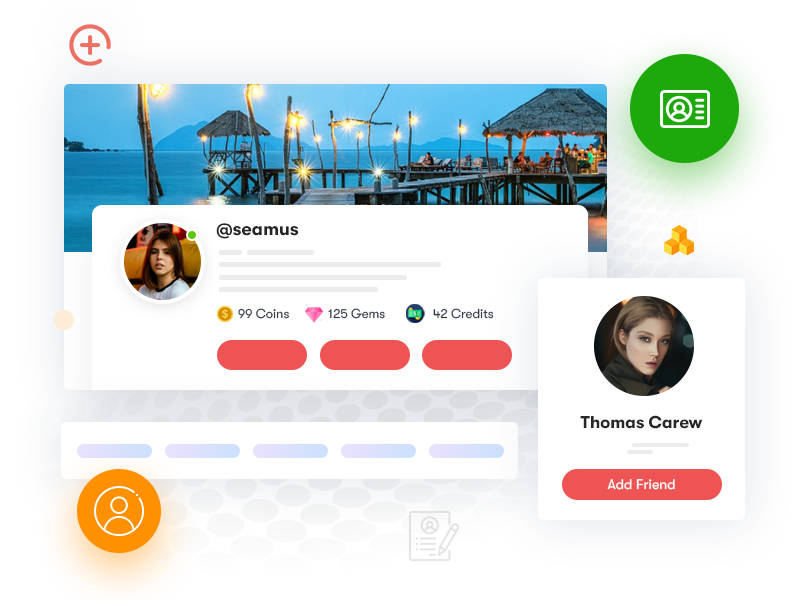 Groups – captivate your members by allowing them to connect and interact with likely people.
Forums – Community portal for the people. The views and opinions of all members matters when you are building a place for all. Make your community members comfortable and show their values by welcoming their opinions on different topics.
Sell Courses
Online Store
Memberships
Branding
Gamification
Flexible Pricing For Everyone
One Click Demo Installer with Outstanding Supports
One Click Demo Installer with Outstanding Supports
One Click Demo Installer with Outstanding Supports
One Click Demo Installer with Outstanding Supports
One Click Demo Installer with Outstanding Supports
One Click Demo Installer with Outstanding Supports
All pricing is in USD. You can change plans or cancel your account at any time.
*Special introductory pricing, all renewals are at a 30% discount. Read more about the Privacy Policy.
But Don't Just Take Our Word For It
A Flexible WordPress Community Theme That Saves Your Time & Creates Unforgettable Impact On Your Members.
A great theme for BuddyPress. Not just ticking the box – it's made for BuddyPress with many great features like for example choice of vertical or horizontal tabs, ability to re-order Group tabs, ability to import a demo etc etc. Truly, a lot of high end features for a free theme.
Valuser smithy
Great buddy press theme, simple and smooth. also works fine with buddyboss platform. Awesome, kind and quick support also for the free version and also open for new features. So far so great, no reasons to complain, but many resons to recommend.
Oliviero
This theme is the best free BuddyPress theme I have ever seen. Fully responsive and different layouts, Gutenberg support and more features, and 5 star support.
Myrtle Hicks
A very stylish theme, easy to use. I had a problem doing a modification to the header. I send my question to the BuddyX team and I received my solution the same day! Great support! Thank you!
Steven Vanhasten
All this changed with buddyx. I had a great support, clean customization in a very short time. Buddyx is stylish, light and fast. All the work load as been taking care of. thanks to Buddyx team who has the thought of users in mind.
Extrov
Find Answers to all of Your Questions Here!
Well-detailed KnowledgeBase isavailable in our support section. Select the product, use quick navigation or search bar to find your query.
Buddyx Pro comes with simple 1-click updates. You get access to the docs and video tutorials as well. Besides, Our excellent support team serves you with all possible help.
Create a pre-sale ticket if you have any doubts or need help in planning your website project.
Create your ticket here
Users who purchased BuddyX Pro Theme, also purchased: