BuddyPress Hashtags offers dedicated widgets for BuddyPress Activities and bbPress Forums, you can display them at desired sidebars. It will have the most used hashtags throughout the entire community. It also gives you sorting methods and limit to display a certain number of hashtags.
Key Features Of BuddyPress Hashtags
Allows members to use hashtags in BuddyPress activities and bbPress topics.
Hashtag turns into a link that helps in searching for related activities.
Admin can set minimum and maximum hashtag length.
It offers dedicated widgets for BuddyPress and bbPress topics.
Add Multi-Language Hashtags
Video Preview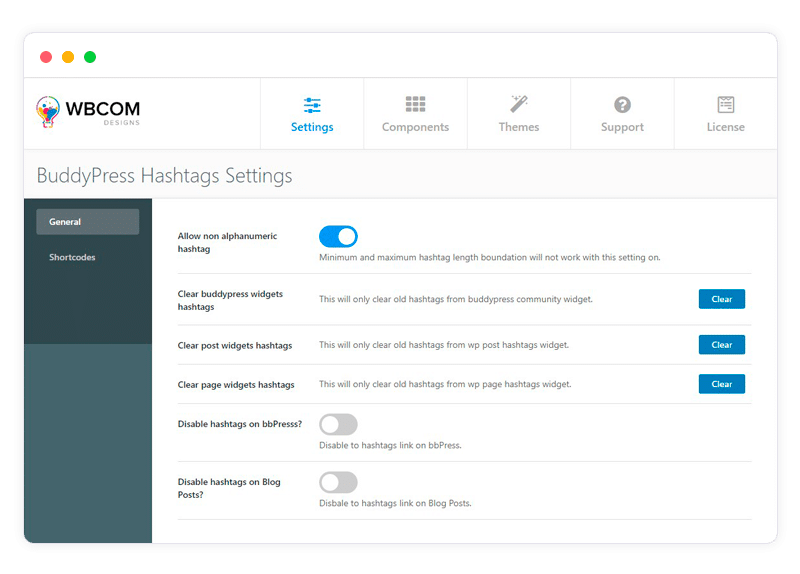 Easy to Use Backend Setting
Allows to add Hashtags into your community based websites
Enable hashtags on BuddyPress, bbPress, Pages and Posts
Allows to add Alphanumeric hashtags
Integrates Cloud Feature
Provides Community Hashtags Widgets
Trending Activities
Increase your engagements with community members with hashtags
Search the activities using hashtag links
Keep updated with mostly used hashtags
Use hashtags in post comments as well.
Easy Setup 
Easy to use
Ideal for Community Websites
Simply install the plugin and give a quick setup
Packed with Features
With everything you need to show product waiting times, look no further than BuddyPress Hashtags
Search Activity
Search community activities according to your hashtags.
Forums Hashtags
Use hashtags under forum topics and replies.
Multilingual Hashtags
With BuddyPress Hashtags, You can use multi language hashtags.
Simple Pricing
We are here to help! We include extensive documentation to set up every aspect of our products, but if you need further assistance we'll be right there with you on our fully monitored Support!
All pricing is in USD. You can change plans or cancel your account at any time. Read more about the Privacy Policy.
Screenshot
You may also like