It also allows them to set icons such as emojis to appear beside their username at the profile. Thus, your members can also express their moods on their status update.
BuddyPress Status comes with inbuilt set of icons and also allow to create own set of custom icons by uploading required size PNG image.
Key Features of BuddyPress Status
Status Icon and tagline options to display at the frontend beside a member's username on his profile page.
Activity Reaction Icons to give reactions to activity updates.
Drag and drop feature to select icons from a variety of emoji sets available to be displayed at the frontend for members.
Allows admin to upload custom emoticons
BuddyPress notifications when someone reacts to your activity
General settings of status icons for certain components include:

Enable or disable status icon in activity loop
Enable or disable status icon at the user profile page
Enable or disable reaction icon in BuddyPress activity actions
Video Preview
Easy to Use Backend Setting
Use Default Provided Icons
Upload set of Icons of your own choice
Enable Icons for activity loop
Display reaction icons in BP Activity actions
Enable Icons on user Profile page
Trending Activities
Display Your Mood using icon and tagline besides the username
Change your status according to your mood
Show Status icon beside username in posted activities.
Edit and delete old statuses and add new
Give reactions to activities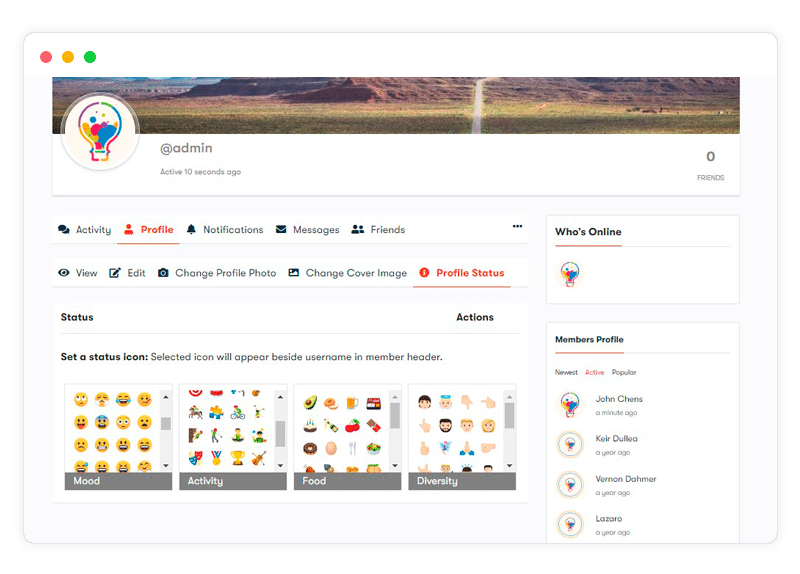 Easy Setup
Easy to use
Ideal for Community Websites
Simply install the plugin and give a quick setup
Packed with Features
With everything you need to show product waiting times, look no further than BuddyPress Status and Reaction
Update Status
Update your status on your profile and show it to all of your community members
Upload Custom Icons
Upload set of custom icons in order to use on your website
Give Reactions to activities
Give Reactions to activities with BuddyPress Status Plugin.
Simple Pricing
We are here to help! We include extensive documentation to set up every aspect of our products, but if you need further assistance we'll be right there with you on our fully monitored Support!
All pricing is in USD. You can change plans or cancel your account at any time. Read more about the Privacy Policy.
Screenshot
You may also like