Do you want to create a complete social learning community with your PeepSo community? A community that allows you to create a social network like community with the options creating a Learning Management System of your own. It's just like integrating an LMS with your community. This is possible with the help of a completely new plugin called PeepSo LearnDash Integration. This plugin has been developed to provide users options of integrating their PeepSo community with LearnDash. Let's find out more about it.
PeepSo LearnDash Integration allows you to increase your course engagement with community profile. Students and Instructors can view different information on their PeepSo profile section and can also share their progress with community members.
This plugin integrates popular LearnDash with PeepSo plugin and provides you options to create a social community like LMS. You will also get options to share your progress for Courses, Lessons, Topics, Quizzes and comments information as community activities.
Features:
PeepSo LearnDash integration provides various features to users as well as an admin. These features are:
Share your Progress:
This plugin allows all your students taking any course or lesson to share their progress with their community. This creates a competitive environment for them and allows them to engage more in such activities.
Activity Control:
Activity control feature allows students to control their activities. They have the choice to enable or disable their course activities such as enrollment activity, completion activity etc.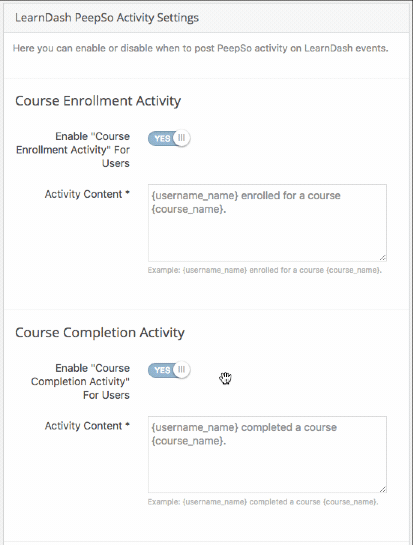 Activities Customizations:
As an admin, you can also customize activities for new Course enrollment, Course completion, Lesson completion, Topic completion, Quiz completion, and Course comment inside activities.
Course Activities:
This plugin had added options for courses inside the individual profile. Also, there are options to enable course activities inside PeepSo community activities.
Other features:
This plugin also allows community admin to manage which attributes will be used to create activity threads. On the other hand, the members also have dedicated tabs to keep an eye on their Courses, My Courses, Instructing Courses and Certificates.
The plugin has following Endpoints
Course Enrollment Activity
Course Completion Activity
Lesson Completion Activity
Topic Completion Activity
Quiz Completion Activity
Comment On Single Course Activity
Therefore, PeepSo LearnDash Integration is a really helpful plugin in order to fulfill all your LMS requirements. With so many features for both the admin as well as members, this plugin has a lot to offer.
Pricing:
Personal License: $21
Develope's License: $81