Hello Guys, you can find the demo data installer plugin inside the Theme Download package.
As an alternative, you can also download from our GITHUB repo, We have kept demo exporter at the public repo and planning to extend it as a regular plugin which can use for any theme vendor. With this one, you will replace your whole site with a new one like our site in demo. This one is suitable for you if you build a fresh site and want to get demo content. Please note that in this way, all your old data will be replaced. You may need to
contact us
to get the quickstart for this installation.
After Installing the Demo Data plugin, the First step will be to select which demo package you are going to install. Wbcom demo installer lets you choose The demo according to your requirements. All the demos are based on a specific set of plugins. You need to have all the required plugins to import the demo.
We are working on various functional demos based on different-2 functionality concepts. After making a demo section, it will ask you to install an active plugin for the corresponding demo package.
Steps to import a Reign Demo :
Log into your site as an administrator.
Make sure you activated your Reign theme before proceeding.
Go to Dashboard → Theme Installer
Choose the demo from the list. Click on the import button.
Install all the required plugins.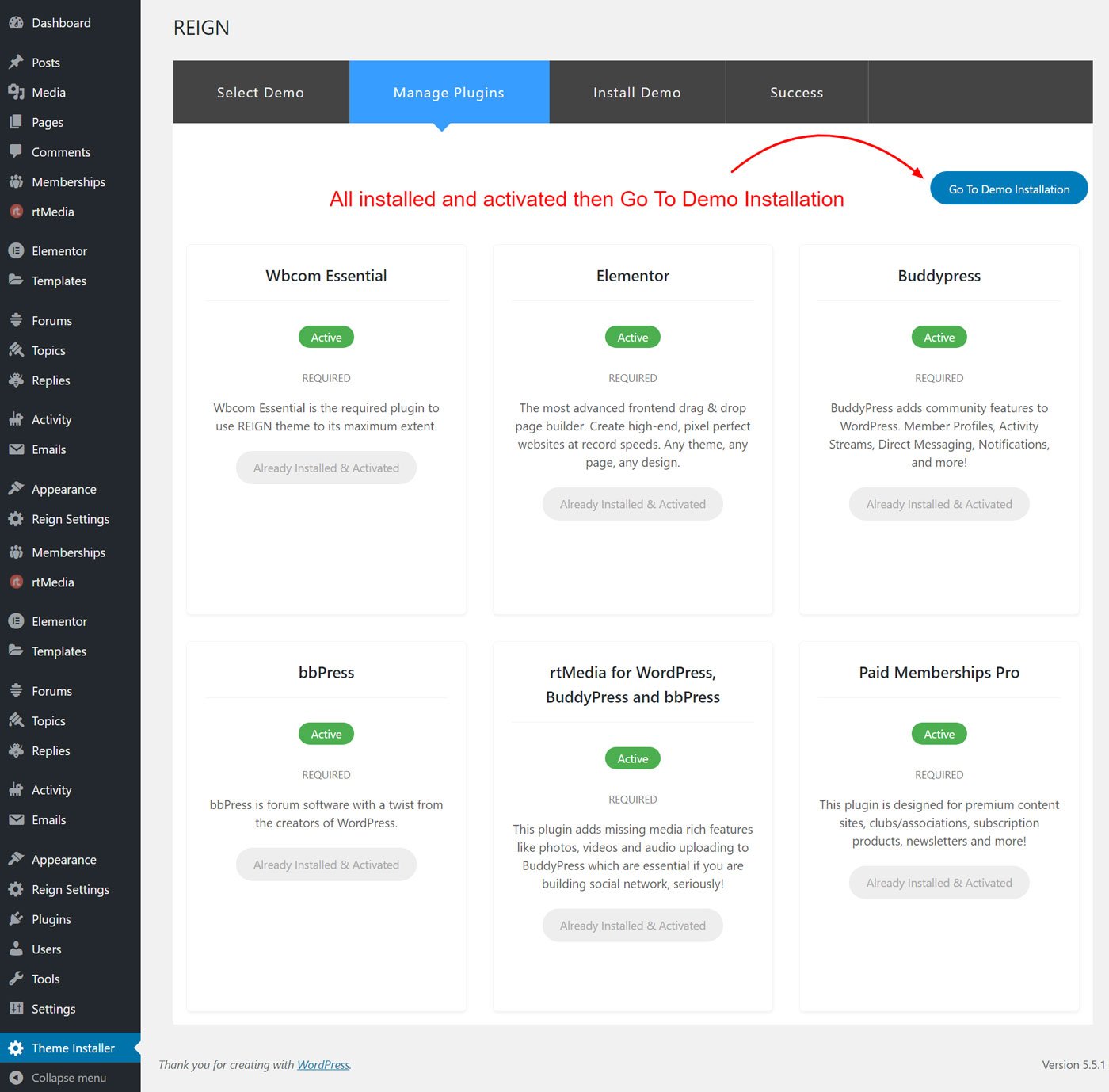 Click on the 'Install Demo' button and wait for a minute. You will receive a success message.
Enjoy!
Do have a look at the below video to understand the full process.
Note :
Images would not be imported as per copyright. We are giving placeholder images instead of the actual image. You will have to add images manually based upon the requirement.
User will also not be imported
We have given a link to our demo websites for some of the menu pages. You can remove or change them from the back end.