As a BuddyPress admin, you always can delete users and content. However, if you have a very active community, it can be overwhelming to attempt to police your site for inappropriate content or behavior. Hiring moderators may not be a cost-effective option for your site.
BuddyPress Community Moderation offers a solution for site owners to keep their communities straight. With community policing strategy, members of the community have an option for moderation sitewide by attaching flags to content created within the various components.
How does BuddyPress Moderation work?
BuddyPress site admins can elect to have the "flag" button placed next to certain content types, including status updates, activity comments, members, groups, forum topics, and forum posts. The admin can set an automatic warning for users whose content has been flagged and automate deletion after a set number of violations.
Options to enable moderation for BuddyPress Components
BuddyPress Moderation allows site admin to choose for which components you want to enable moderation, It's ready for Activities, Activity Comments, Messages, Members, and Groups.
Simple Option for Activities 
BuddyPress Moderation allows site admin to enable auto moderation after a certain number of reports, it comes with two operation mode, hides activities for all members or hide activity for those members who have reported for that specific activity.
Activity Comment Moderation Options
Moderation options for Private Messages
Moderation Options for BuddyPress Groups
BuddyPress Moderation options for Members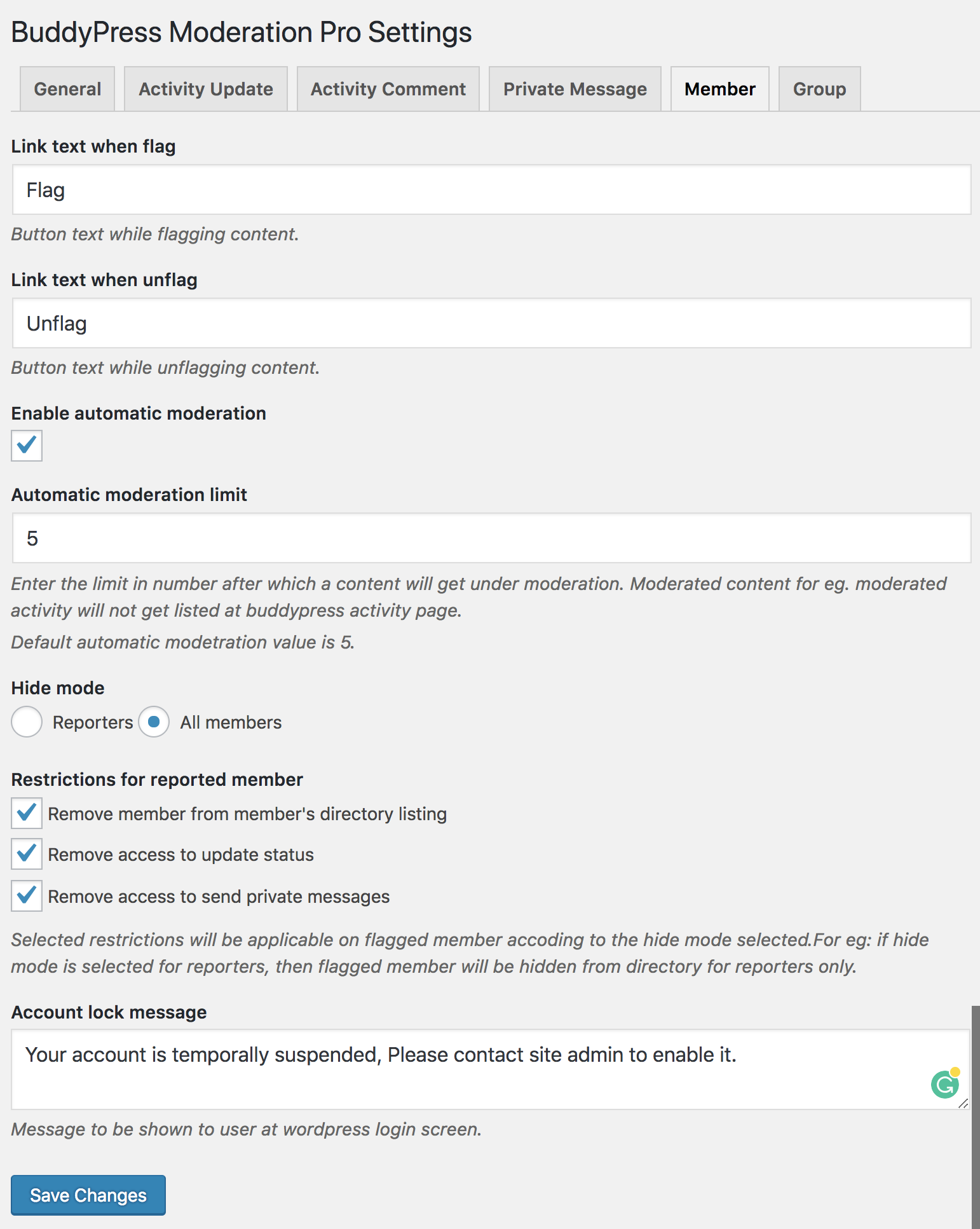 Option for each reported Activity
Live actions at frontend with Flags
It's unobtrusive and keeps your BuddyPress community healthy and balanced. Depending on how active your community is, this plugin can keep members from spreading sour vibes and help your community to flourish. BuddyPress Moderation is a must-have tool for community management.